APPiLiCATiON*
z.first off, whats your name?- KeLLy
o.age?- 19
x.girl or boy?- one tough chick
o.location?- Big Tex
x.dating status?- Taken & Loving it.
o.sexuality?- Straight
x.hobbies?- Music, Theatre, Musical Theatre, Softball
o.somthing intersting about yourself.- Umm. my brother was in the band The Lemonheads? lol I Don't know.

*OPINIONS* MORE THAN 5 FREAKIN WORDS PLEASE!
x.love- It's sooo amazing. I'm in love right now and I Dont think I could be happier.
o.abortion- Against. If a man murdered his pregnant wife/gf he would have murdered his baby, too, and gotten in trouble for it. How is it different? Because the mother lives and the person who does it has a piece of paper saying he's trained to?
x.testing products on animals- Majorly against. I looooove animals.
o.interacial relationships- more power to you for loving who you want.
x.same-sex marriages- FOR. Some of my best friends are gay. Marriage is about happiness and love. We have a right to those things. No one can tell you who not to love.
o.stereotypes- I hate them, but when you think about it they have some sort of truth in them.. if that makes any sense.. i mean they had to come from somewhere.

*FAVES*
x.song?- I have a few. The Future Freaks Me Out- Motion City Soundtrack/Ugly-COLD/I'm Not Ok-My Chemical Romance/Confetti-The Lemonheads/Mr. Brightside- the Killers/You're So Last Summer- Taking back Sunday/Pieces of Me-Ashlee Simpson/bohemian like you- the dandy warhols & more
o.bands/singers?- cold, taking back sunday, my chemical romance, the dandy warhols, the lemonheads, good charlotte, dashboard confessional, bowling for soup, story of the year & many more. I love music!!
x.soda?- Hmm... probably cream soda
o.color?- Black
x.quote?- I have so many. lately ive been saying 'everything will be ok in the end.. if it isnt, then it isnt the end yet.'
o.movie?- again, i have a few. Fight club, party monster, american history X, the notebook, chicago, grease, dirty dancing, the rocky horror picture show & more
x.store?- hot topic because they have stuff i'll find nowhere else.. and aeropostale. I love their PJs :-P
o.sport?- To play: BASEBALL!

*OTHER JUNK*
x.turn ons?- sense of humor & a sweetie. and not exactly like me... but not too different
o.turn offs?- drugs, drinking, smoking, too much cussing, flirting w/ other chicks, just being an ass
x.best trait (physically & personality)?- physically: my eyes? personality: i'm outgoing & funny
o.biggest fault?- I trust people too easily & I'm hard-headed.
x.how did you find us?- just looking for surveys to do.
o.cute female celeb.- dunno?
x.cute male celeb.- sooo many

*AND*
o.promote us to a community or a LJ user. please leave the link we will check!

i'll make a post on mine Kinderbat34


x.fill in the blank.
PINK is the best color ever!
o.oh and at least 3 CLEAR pictures of yourself.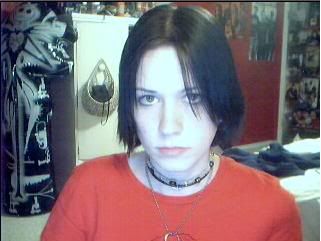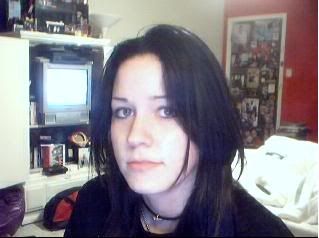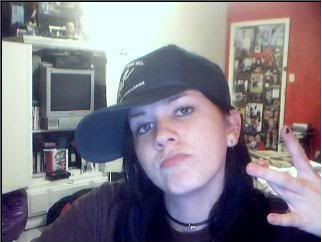 gangstaaaaaaa :-P